What a turbulent start to a new decade! Geopolitical tensions, climate change, volatile markets—how relevant are investor's financial New Year's resolutions for the environment we find ourselves in today? I believe that wealth managers need to help their clients find some financial calm in this increasingly unpredictable world by giving clients the advice they crave.
We think the top trends reshaping wealth management all come back to modernizing advice for today's world. What capabilities are required in the future? How can wealth managers differentiate their advice in a competitive market where advice seems to be talked about all the time, but not always delivered?
If we look back on the 2010s—a time of incredible market performance and wealth creation—there's not a lot to be proud about when it comes to financial literacy and the well-being of individuals. A cursory scan of headlines reveals a depressing lack of true financial health in our society: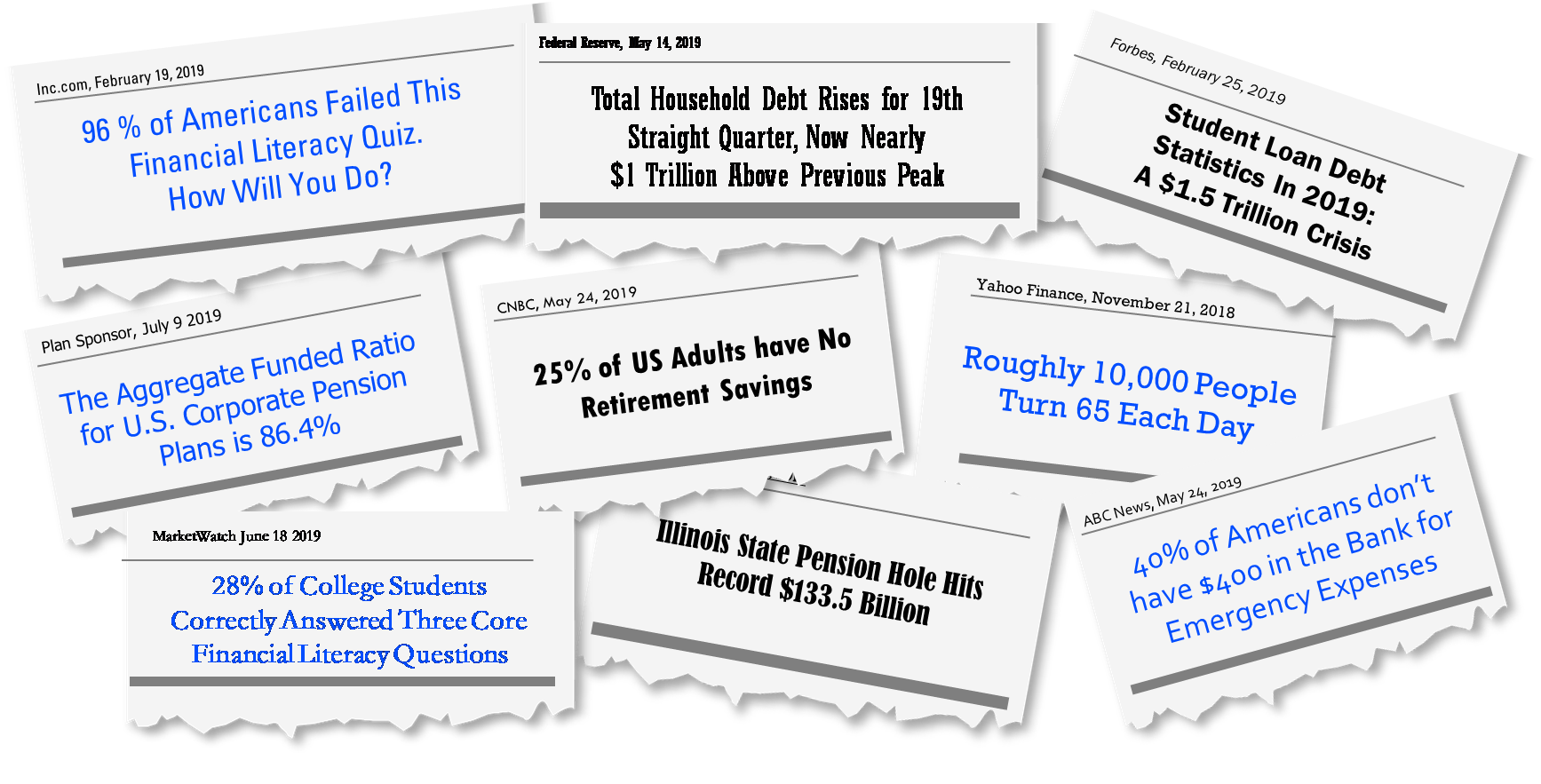 One could argue that a point in an investor's life when they need excellent financial advice occurs when they are thinking about stopping work and retiring—although the very concept of "retirement" is shifting dramatically these days. Our research identified that only 15% of investors aged 49-59 were highly satisfied with their financial advice versus 23% for those younger and 24% for those already retired. It's therefore no wonder regulators in North America are focused on the quality, value and suitability of advice in wealth management. It also makes us want to break down the components of the advice formula and think about how that formula can be truly modernized for the future.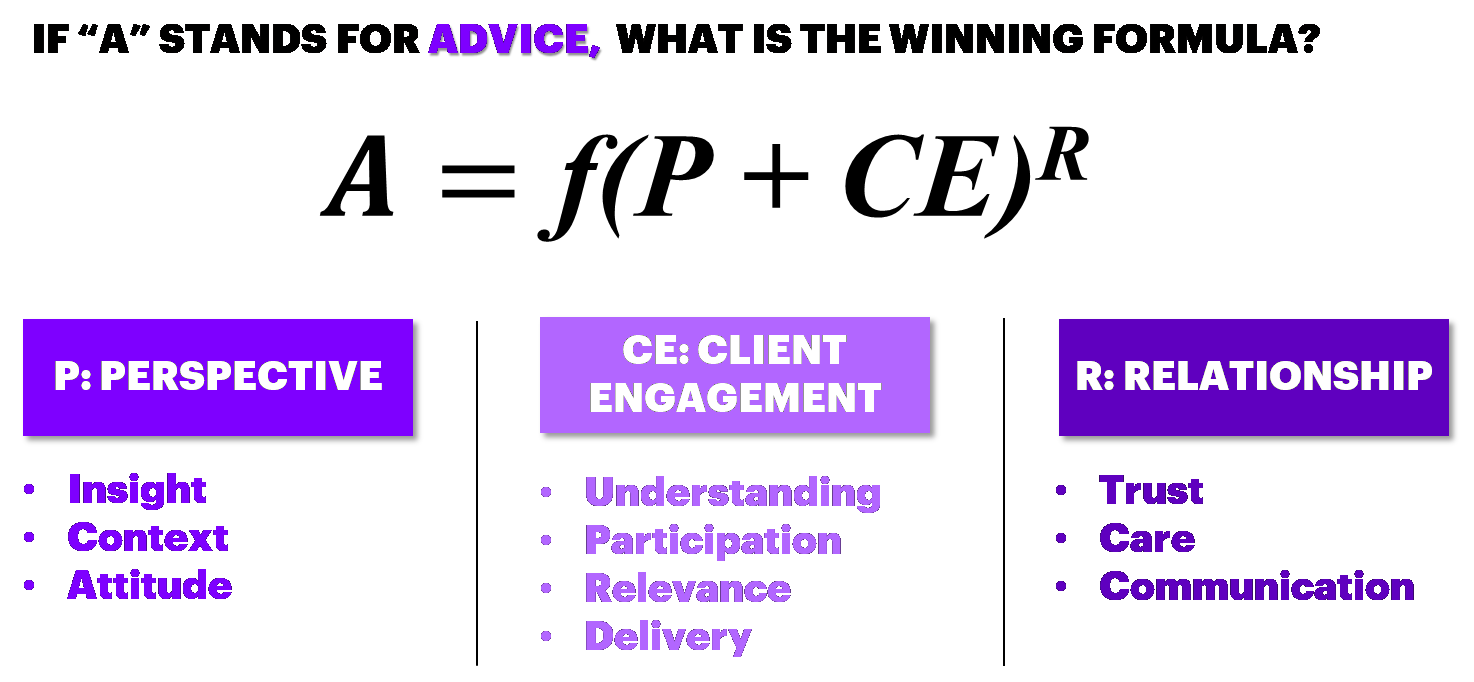 Source: Accenture
When we think about what needs to change in how perspectives, client engagement and relationships are enabled in wealth management, we have to think of how important the digital evolution is to modernizing advice.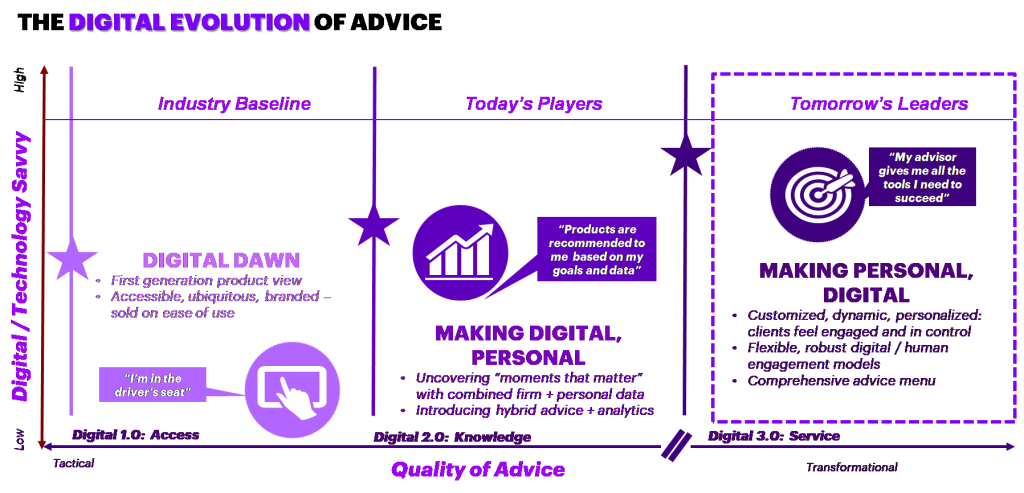 Source: Accenture
Moving from Digital 1.0…
As usual these days, the story starts with digital. It changed everything from how we shop, consume information and communicate, and now how we save and invest. And today, the industry's approach to technology is entering a new phase.
A bit of history: In the digital dawn, when technology was first used to deliver advisory services, access to investment advice widened dramatically. Almost overnight, firms were able to cater to huge numbers of clients who were previously underserved or not served at all.
But while technology enabled firms to operate at a greater scale than ever before, the advice was often oversimplified and not personalized. Inevitably, quality was lacking.
 …to Digital 2.0: making the digital, personal…
Firms soon recognized these shortcomings and made efforts to improve. So began the second chapter in the industry's adoption of digital: making the digital, personal.
Here's an example: imagine a wealth manager that wanted to help cross-sell services to customers within their retail banking business. Remarkably, they were able to successfully convert a significant number of those customers into wealth management clients—even if the company had no prior relationship with any of them. How could this have been achieved? By deploying powerful analytics to identify those new customers most likely to require wealth management services and offering those services at precisely the right moment as they prepared to conduct a major transaction—thus using personalization to drive top-line growth.
…to Digital 3.0: making the personal, digital
But now things are moving on again. As we enter 2020, we can see the third wave of digital gathering momentum. And Digital 3.0 marks another new approach: making the personal, digital.
The key here is that firms are looking for the best ways to seamlessly marry digital and personal together. It's about automatically combining the product and service offering and identifying the capabilities required to build a modern advisory structure. The aim? To truly modernize advice by putting digital right at the heart of the client-advisor interactions.
Modernizing advice requires both a superior service model and a complete holistic solution set—thus enabling interactions that bring the best of what the firm has to offer through the various channels.
Wealth management firms already offer a broad range of products and services through digital channels, such as equities, fixed-income investments and fund baskets. But in the future, they must look at the other side of the offering portfolio, like insurance, annuities and alternative investments.
A new approach to lending advice
Lending is a good example of where this wider perspective is needed. While lending is the backbone of wealth management, it's still mostly focused on products—especially traditional residential mortgages.
I believe this part of the business is set to evolve, starting in 2020. I'm waiting to see which company will be the first to offer a full range of lending products via its digital advisory service, such as the bespoke residential loans. If something like this hits the market, it will be interesting to see the reaction—both from clients and the broader industry.
The interesting thing about lending is that it deepens the client interaction in a very material way. Why? Because you're able to have a conversation about a big life goal that's right in front of clients and provide a solution to help them achieve it, within the context of building household wealth over time.
Ethical investments
Another focus area for 2020 is ethical investments. As millennials grow their spending power, this is one of the areas where they're driving increased demand.
Going forward, it seems very likely that the millennial generation's appetite for environmental, social and governance (ESG) investments will continue to grow. To engage millennial consumers, firms must focus their advice and conversations around the ESG impacts of investments, as well as the financial returns.
A more competitive landscape
On the overall wealth management landscape, I expect to see increased competition amongst players to win client assets. We are also, by and large, in the early innings of industry consolidation as seen in recent news about Charles Schwab acquiring TD Ameritrade[1].  This will largely benefit investors as assets (via personal savings growth) increase and the industry continues its digital democratization.
I anticipate wealth management taking center stage as part of a social, political and economic conversation globally. Today, we see unrest across the globe due to retirement uncertainty and a seeming lack of action from governments and savers alike. Wealth managers can—and should—play a key role in the planning and offering of financial literacy. Wealth managers should also help foster education focusing on digital fluency, which will be a key part of the dialogue moving forward.
Putting clients at the heart of advisory services
What do all of the above trends have in common? They all highlight the need to focus on client needs and desires by putting them at the heart of every interaction.
Which brings me to my final point: that wealth management in 2020 will be more centered on clients than ever before. It's about shifting their perception from "They offer a good service" to "I am at the center of the advisory relationship".
Innovations are underway to help firms achieve this. For example, we've worked with a number of clients across the globe to help develop a shared screen for advisors and customers to use during their conversations. Today, advisors usually look at a desktop or advisor portal that's separate from their dialogue with the customer. With a shared screen, advisors can discuss investments and run scenarios for customers, with both of them looking at the same data. The result: a very different experience—and a potential big boost for client relationships.
Put simply, it's time to use digital to put the client back at the heart of the conversation. That should be our real goal for 2020.